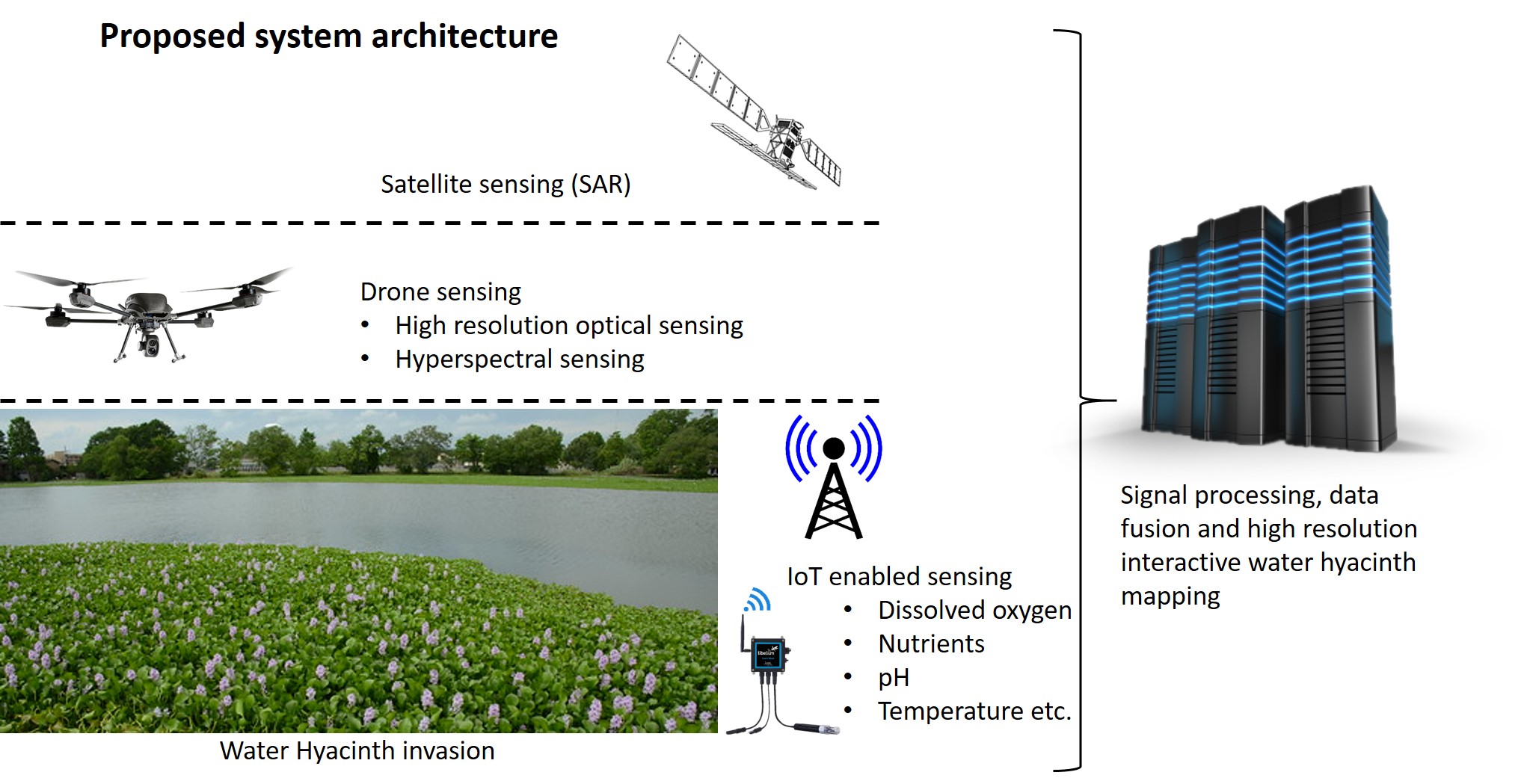 The aim of this project is to develop effective methods that combine the use of multiple data sources (satellite and drone observations and ground-based sensors) to monitor the spread of invasive aquatic weeds in neglected and inaccessible water bodies in India. The project focuses on water hyacinth (Eichhornia crassipes) in the Kuttanad region of Kerala.
Invasive aquatic weeds are a serious problem affecting many parts of Asia and Africa. They cause severe degradation of the aquatic environment, with damaging impacts on fisheries, drinking water sources, agricultural irrigation, rice cultivation, navigation and recreational use of water bodies. Lakes become breeding grounds for mosquitoes, carrying diseases such as Chikungunya that endanger human health. The effects are felt severely in the Kuttanad basin in central Kerala, where agriculture and the tourism industry depend heavily on the local lakes and rivers, almost all of which are heavily infested with water hyacinth (WH).
Attempts to control the weed usually involve manual or mechanical removal. However, it is impossible to remove all traces of the weed completely, and it regenerates from left-behind seeds and fragments. Regrowth in small, neglected and inaccessible side streams and pools remains undetected until the spread is extensive and has reached economically important water bodies which become re-infected and damaged. Early detection of regrowth has the potential to cut the cost of control by allowing the weed to be removed before it has reached a damaging level.
We investigate technological methods for early detection of water hyacinth regrowth, combining data from satellite, drone, and ground-level sensors. Multi-modal data has the benefit of providing both extensive area coverage and sufficient resolution to survey small water bodies. We will devise algorithms for combining multi-modal data for effective detection, carry out pilot trials of our methods, and ensure sustainability of results through training and dissemination activities.